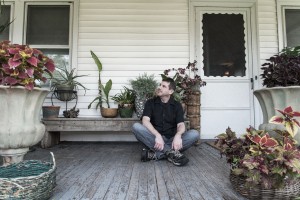 A veteran of the New York music scene for over two decades, Dave Kopperman debuted as a recording artist in 1995 as keyboardist with the indie pop outfit Lizard Music, whose founding members went on to join Wilco and the Cat Power band, respectively. Over the years he's lent his musical skills (piano, bass, guitar even drums) to a number of different groups including Volcano, Us Not Them, Lost, Lonely & Vicious, and Battershell.
After a leading stint in the neo-prog combo Analogue, which produced the excellent and stylistically prescient The Future is Ours, he went on to front Copper Man on the remarkable concept album Selling the Downtown Dream. His latest self-produced recording Island off the Coast of America may be his masterwork. Pulling together all his experience as a songwriter and multi-instrumentalist, Island is a stunning collection of personal tunes with universal appeal imbued with classic analog textures like the Moog synthesizer, 12-string guitar, Hammond organ, and Rhodes electric piano.
In addition to music, Dave is also a skilled visual artist, which is on display in the video he co-directed and animated for his new single, Don Henley. He is a native of Rockland County, New York, just north of NYC on the west side of the Hudson.
---